Hike to Lake 69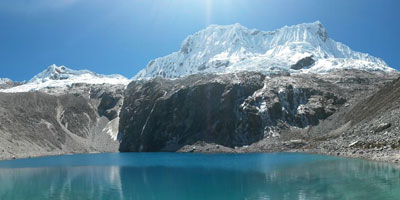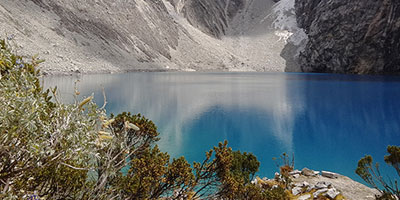 Esta hermosa laguna de color azul turquesa se encuentra al pie del nevado chacraraju y es alimentado por las aguas del mismo. Para llegar a este lugar se inicia con la caminata en Cebollapampa el trayecto es un sendero mágico que va por el lado derecho del riachuelo que baja de la Laguna 69 formando a su paso cascadas y cataratas, también existen una gran variedad de especies vegetales que adornan el sendero (quenuales, quisuares, ichus, orquídeas, shajshash, entre otros).
Daily departures lake 69
Duration:
Full day.
Distance:
by bus 6h. round trip (Hike ↑3h - ↓2h).
Highest altitude:
4,650 m (Lake 69)
Difficulty:
Moderate
Departure:
5:00 am.
Return:
6:00 pm.
Price: US $18 per person
Information:
Itinerary

Iniciamos a las 5:00 am con el recojo de los clientes en sus respetivos hoteles, una vez finalizado con el recojo salimos con dirección al Callejón de Huaylas donde haremos una parada a las 7:30 am aprox. para tomar el desayuno. Siguiendo la ruta llegamos a la quebrada de Llanganuco (3,900 m) donde tendremos una hermosa vista de las lagunas Chinancocha y Orconcocha.

Para finalmente llegar a Cebollapampa donde iniciaremos la caminata la cual nos tomara 3 horas aprox. hasta llegar a laguna 69 (4,600 m) para posteriormente retornar la cual nos tomara un tiempo aprox. de 2 horas hasta Cebollapampa donde nos espera nuestro transporte para trasladarnos a Huaraz.
Services
What is included:
Recojo desde su Hotel (Hora de recojo 5:00 am)
Bus compartido: Huaraz - Lagunas de Llanaganuco - Cebollapampa (Inicio de la caminata) – Huaraz.
Guía de caminata.
Mate de Coca, Botiquin de primeros auxilios.
What is not included:
Desayuno.
Ingreso al Parque Nacional Huascaran (S/. 10.00 Soles).
Box Lunch.
Gastos personales.
Comidas y bebida extras.
FAQ
¿Con cuánta anticipación debo reservar el programa?
Le recomendamos reservar con bastante antelación minimo 1 dia antes de su salida.
¿En grupos de cuántas personas se realizan las caminatas?
La caminata se realizan en grupos de 12 a 30 personas, Sin embargo este tour compartido también puede ser solicitado para que sea privado, escríbenos a
peru-adventures@outlook.com
¿Cual es la estacion recomendada para hacer la caminata?
Los meses recomendados son de Mayo hasta Octubre.
Aunque se puede hacer la caminata durante todo el año solo se requiere de ropa impermeable para protejerse de las lluvias.
¿Organizan traslados/recojo del aeropuerto?
También organizamos transfer privado en Lima, Huaraz y otras ciudades; además organizamos paquetes turísticos a medida en todo el Peru. Si prefiere un servicio más personalizado desde el aeropuerto de Lima o está interesado en un paquete de viaje completa por el Perú, por favor escríbenos al siguiente correo
peru-adventures@outlook.com
.
¿Es posible incluir alojamiento antes/después de la caminata?
Sí. Si quieres cotizar este itinerario con alojamiento incluido, escríbenos a
peru-adventures@outlook.com
, indicando fecha de llegada y salida, categoría de hotel, número de personas y tipo de habitación que requieras.

« Back
---
Laguna 69 2023
Hike to lagoon 69, price lake 69, rate laguna 69 tour, price lagoon 69, lake 69 price, trekking lake 69, hiking lake 69.